Cooking with Chef Tatjana
Culinary Diva!
Location: Trogir
Food theme: Modern Twist on Classics
Duration: Half Day
Period: All Year Round
Children friendly: Yes
Max number of guests: 8 at the table, 12 standing
INCLUDES: Hands-on Cooking, Lunch with Wine
Tatjana!
Tatjana is one of Croatia's favorite home chefs! Featured in the Saveur magazine and Bizarre foods TV show, she has been making headlines in promoting Dalmatian cuisine and a local lifestyle made up of small wonders and harmony with the environment. Enthusiastic, passionate and incredibly curious about food, Tatjana will pass the 'cooking bug' onto you in no time!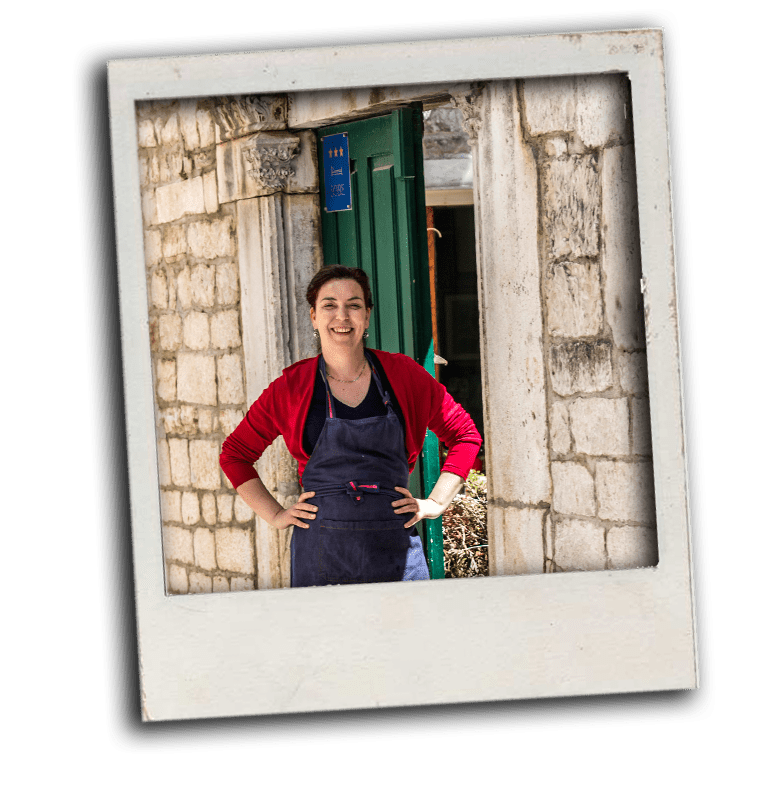 A unique cooking class in Croatia
Your cooking class will take place in Tatjana's home, the 13th-century palace in the center of Trogir, UNESCO World Heritage jewel located just 30 minutes north of Split. As you enter the gates into the open courtyard and garden which double for a kitchen, you will immediately sense the magic ahead.
Exercise your senses at Trogir markets
Just like any feast in Croatia, your cooking class will actually start with a visit to the local market. Here, Tatjana will share her secrets on recognizing fresh and organically grown foods and employing all your senses on this quest.
Prepare Dalmatian specialties
In this unique cooking class, you will learn how to appreciate each of the ingredients to their fullest, how to treat them and how to savor their essence. The menu depends as much on the catch-of-the-day at the market, as on your personal preferences, but do make sure to take down recipes, as Tatjana is a culinary artist whose work is always original!
A new appreciation of food - and new skills
This is the true value of an experience with Tatjana – while talking about the Dalmatian traditions, she will recreate your relationship with food so that you truly understand the meaning of the old saying: "Love comes through the stomach'. Well, with Tatjana, it surely does!
Only private tours on request. No group tours to join.
Images on this page are for illustration purposes only and the actual offer may differ.
Not all dietary preferences can be accommodated.
Need a Place To Stay?
It is possible to stay with Tatjana as she has one apartmet for two guests. This can be a lovely addition to a honeymoon: an overnight stay with creative Tatjana's cooking and living with her lovely family